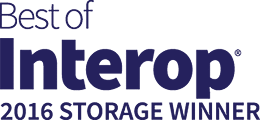 De Award winning
MARS 200
, de allereerste ARM-based SDS in zijn soort, is zo inventief dat die appliance direct de aandacht van de IT-industry op zich gericht weet. Interop Las Vegas 2016 benoemde 10 Top IT Products & Services als Best of Interop Award Winners; In de categorie Storage is de MARS 200 dit jaar verkozen tot
Best of Show
. Niet in de laatste plaats door de innovatieve
virtual storage manager
. Een simpel te gebruiken software interface om de flexible, duurzame en ongelimiteerde scale-out enterprise and datacenter storage te managen.
Cloud Servers, zoals de MARS 200 Software Defined Storage (SDS) appliances, vormen de nieuwe norm en zijn universeel toepasbaar in datacenter situaties. Denk aan
Hosting Bedrijven en (bedrijfs) Datacenters die kosten van energie, onderhoud, aanschaf en ruimtegebruik moeten reduceren
. Maar denk ook aan bijvoorbeeld Hybrid Cloud Test omgevingen, Research, Educatie, Data Analyse en specifieke nieuwe data intensieve of back-up toepassingen.
ARM-based Cloud Servers. Microserver Storage Solutions die direct de onderhoudskosten drastisch reduceren en energiebesparing (dus geld en een beter milieu) opleveren (slechts 60W verbruik per 1U rack excl. disks) zijn voorzien van
Hot Swappable Diskdrives
(HDD),
Hot Swappable Serverboards
en
redundant Power
Supplies

De reductie van electriciteit verbuik alleen al, maakt dat investeringen in big data opslag razendsnel terug te verdienenen zijn .

Dat zijn pas innovatieve oplossingen! Informeer naar de mogelijkheden.