With continuous digitization and the increased importance of working from home, a fit ICT Infrastructure is more important than ever. But how do you, as an administrator, keep a finger on the pulse, how do you know early on that something will go wrong, and how do you keep an overview of more complex network environments?

If the right software tooling is not used in practice, it is impossible to maintain an overview of your network and the vital servers, storage, switches, etc. it contains. You would rather avoid a problem: The proactive approach! Disruptions in your IT environment will in most cases damage productivity, result in unplanned downtime and often frustrate users. In many cases this also comes with the necessary financial consequences.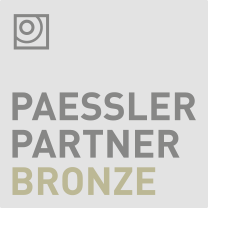 Good management is characterized by foreseeing and preventing problems. That is precisely the reason why we have chosen to enter into a partnership with monitoring specialist Paessler AG from Germany. With more than 300,000 users in 170 countries using Paessler PRTG software to monitor their business-critical systems, devices and network environments, they are the leaders in this specialist field. With the advanced PRTG monitoring tools it is possible to gain a clear insight into the current state of almost all equipment connected via the network.


MiniDis - Distributor of mini-PCs, IoT and Datacenter Solutions has become a PRTG partner based on 2 thoughts.
PRTG is monitoring software that is not limited to the traditional "office network". For some time now, industrial environments can also be included in this monitoring. Industrial applications and IoT related automation are areas in which many of the MiniDis partners are active and where there is an increasing need for increasingly professional support for end users. Knowledge about additional services that is not always available at our partners, but which can be helpful as a Value-Added Distributor.
The PRTG expertise present within MiniDis is available to our Partners. MiniDis can be deployed as an implementation partner for your projects for:

Setup (and possibly delivery) of the correct server requirements

The setup of network monitoring software (This can also be done remotely!)

Optimizing PRTG sensor usage and setting appropriate threshold values

Creating meaningful Monitoring reports

Realizing practically usable Monitoring Dashboards.

Providing Remote Monitoring Services
PRTG Industry Application areas:
Monitor medical systems and IT infrastructures with PRTG. Modern hospitals have a high degree of digitization. The (secure!) Availability of patient data is at the heart of the process. IT systems and medical IT must work seamlessly together and require centralized monitoring.
Digitization in industry is bringing the worlds of ICT and production ever closer together. This development has created a need for a monitoring solution with which both IT and Production information can be monitored on a dashboard. PRTG is easy to use active monitoring that can be used without the installation of agents.
Schools, colleges, universities and all other educational institutions are highly dependent on a well-functioning and fast-functioning IT infrastructure. Add to that the fact that remote learning and especially video content place high demands on IT. With PRTG you keep an overview of the performance and availability thereof.
The financial world has traditionally been highly dependent on networks, systems and software applications, which must always be available and, moreover, must function securely and stable. With PRTG it is a lot easier to monitor financial IT and guarantee performance.
Communication with the government has long ceased to mean visiting a counter in the Town Hall. With the modern e-government possibilities, almost all procedures have been digitized. Monitoring of municipal and national government IT has therefore become an important part of achieving interaction with and service to citizens.
CCTV systems are an important link in the security of buildings and objects. Malfunctions in such systems therefore pose major security risks. PRTG helps prevent downtime. Video surveillance systems consist of a large number of parts, each of which is important for the functioning of the whole. Failure of components such as cameras, switches, routers, firewalls, cables or Wi-FI APs endangers the operation of the entire system or, more likely, comes to a halt, with all the associated risks. Because video surveillance actually uses many traditional IT components, it would be ideal to integrate the monitoring ring of the storage, network and IT infrastructure with those of the cameras, video systems and power supplies on a single PRTG dashboard.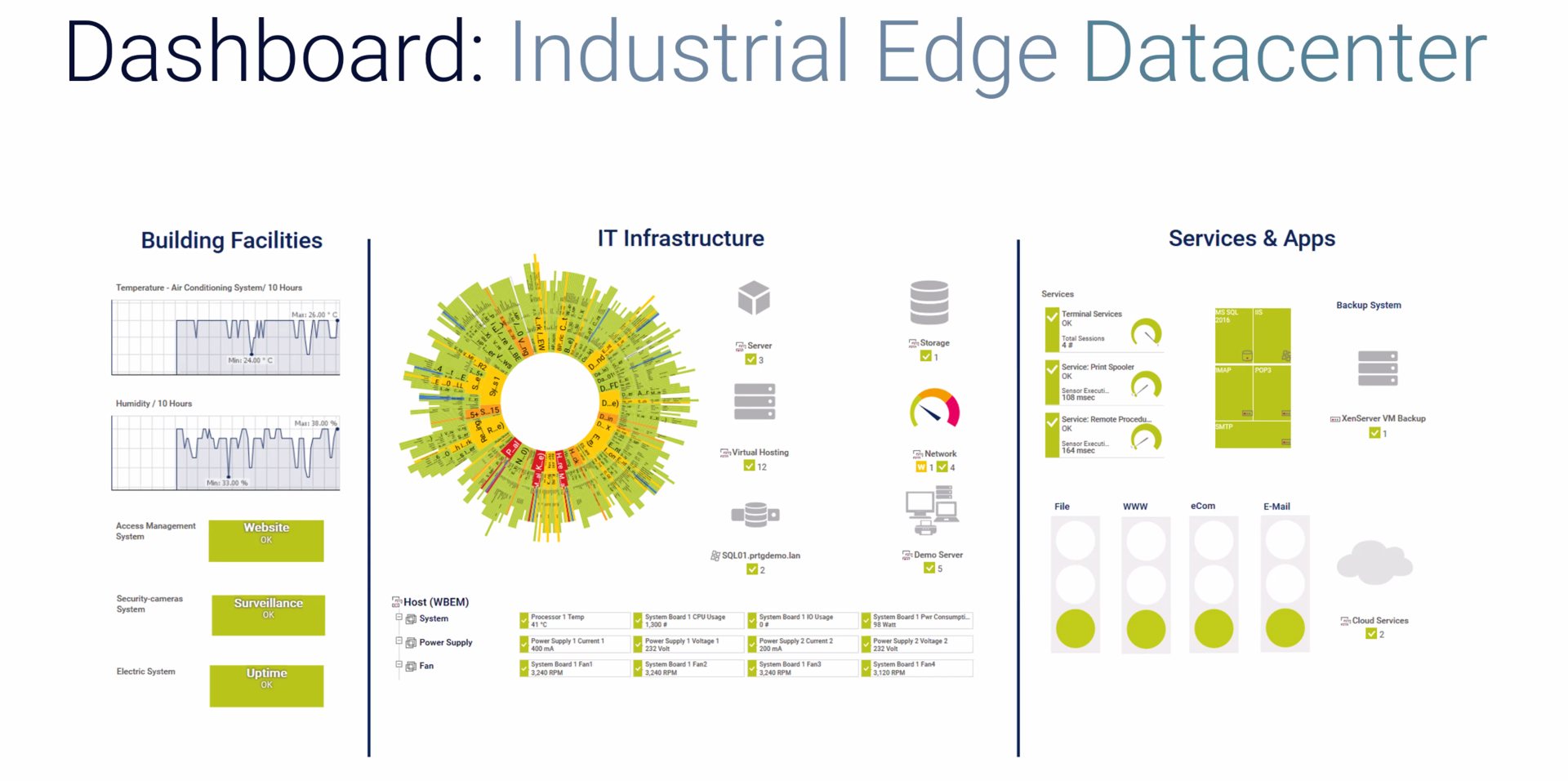 PRTG - Overview

PRTG monitors your entire IT infrastructure
The solution supports all major technologies:

• SNMP: out-of-the-box capabilities and customization options
• WMI and Windows Performance Counters
• SSH: for systems with Linux / Unix and macOS
• Analysis of network traffic with flow protocols or packet sniffing
• HTTP requests
• REST APIs that return information as XML or JSON
• Ping, SQL and much more

Dashboards
• Visualize your network using real-time maps with live status information.
• Create dashboards with the PRTG map designer and integrate all your network components. You can use over 300 map objects, such as device and status icons, network traffic graphs, rankings and more.
• Personalize your card with your own HTML code. Once you are done you can share the map via a URL. You can choose to make the card publicly available or only internally via the LAN.

Flexible notifications
• PRTG will notify you immediately as soon as it detects problems or irregularities.
• PRTG offers several built-in notification options, such as email, push mechanisms and HTTP requests. Our free apps for Android and iOS make it possible to have notifications sent directly to your smartphone via a push mechanism.
• Customize the notification system as needed, schedule notifications (such as with the "no low priority notifications in the evenings" option) and prevent a tsunami of notifications by using condition variables.
• You can even use our PRTG API to program your own notifications.

Monitor distributed networks
• PRTG Network Monitor has a remote probe function that allows you to monitor multiple locations remotely, including smaller locations. You do not have to implement an expensive and complex installation at every separate location. The remote probes register all data and send it to the central installation, where the data is stored, analyzed and visualized. Every license of PRTG includes free use of remote probes.
• PRTG also offers licenses for larger environments. Paessler PRTG Enterprise Monitor is scalable and provides centralized, service-oriented dashboards and reporting through the ITOps Board.